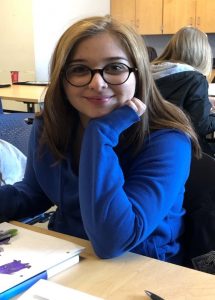 Oliva Spencer has her guidance counsellor to thank for introducing her to dual credit as an option to gain high school credits. "We discussed how it would help me in my future as well as helping me finish high school. For me that was the key – the dual nature of the benefits," she explains. "In spite of being capable, I've probably often underachieved as a student and I think my guidance counsellor probably saw me as someone capable of more."
Oliva is quite pleased with her achievements. "Ever since dual credit started I've learned how to keep on top of assignments as the due dates and responsibilities are firmer than in high school," she says. "I stay organized and prioritize responsibilities better because of this experience as if I don't I'll miss out and be left behind. I am able to stay more motivated with my homework as well. I feel because of this experience I am better prepared for what college and life after high school will be like.
Oliva says the support and firm expectations of her faculty and dual credit support teachers have been key to her success and growth.