19-year-old Skysin Solorzano is full of excitement and a few happy tears since she received news of her acceptance to the Business Administration-Accounting program at Georgian this January. After dropping out of high school, she held a belief that she would never go to college. She is very grateful things have changed.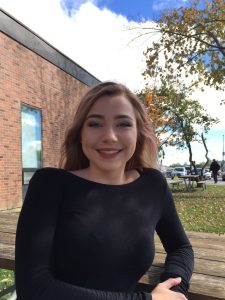 "If it weren't for Georgian College, I wouldn't have a success story," Skysin says. "It's a cycle of success".
Skysin's time at the college began last winter when a teacher at the Barrie Learning Centre encouraged her to consider a dual credit course to help her finish her high school diploma. She studied Ethics and Issues with faculty Alexa Farley, finishing the course with 94%.
"It encouraged me to think with an open mind, to think critically, which is a great skill," she says. "The professors here really care about you".
In September, Skysin joined the School within a College (SWAC) program on the Barrie campus. She's taking two more college courses along with her secondary school credits. "Dual credit let me know that I could go to college because it gave me confidence," she explains.   "I was scared before, and it seemed so intense. I tell myself that everything happens for a reason. If I didn't drop out of school maybe I wouldn't have found dual credit, and maybe I wouldn't have the chance to go on to college. I am so thankful for the opportunity."
Skysin has dreams of opening a restaurant for students one day that builds community through food. She starts preparing for that dream in January as she begins her college program. "Because of dual credit, I know my way around now," she smiles. "I know where to go for help, and I can even help others."