In addition to Georgian's convocation, School within a College (SWAC) graduation ceremonies were held at our Barrie, Owen Sound, South Georgian Bay and Midland campuses in June.  These classes allow secondary students to finish their high school diplomas in an alternative setting while also earning college credits.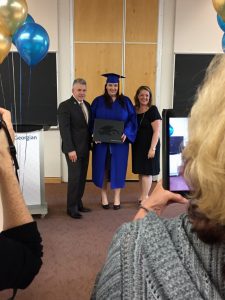 Many SWAC students faced significant barriers to graduation, so the pride and sense of accomplishment was evident at the events. Classes had valedictorians who thanked their teachers, faculty, family and others who supported them in their journey.  Here are some excerpts from the speeches made:
Personally SWAC provided me with one-on-one learning which is extremely difficult to receive in the traditional school system. I felt a lot more welcome and accepted than I ever had and most importantly, it is where I learned best….Since my SWAC experience, I have become a Georgian student studying Massage Therapy.  I felt so confident beginning my program in January having experienced college courses when taking dual credits.
Because of you Patti (secondary teacher), a lot of us students are able to now say we are high school graduates because you believed in us and saw the potential that we never knew was there. Because of you, a lot of young people's lives are changed forever.  You never pushed us to do anything that made our anxiety fly sky high, you never broke our trust and then we slowly opened up to you.  You are going to be the one person I'm going to look back on in 30 years and say "yes that teacher knew what it was like to go through tough times, and related to me on a personal basis and tried to help me mentally, emotionally, physically, because of her, I am where I am now, because of her, I was able to achieve my life goal of graduating".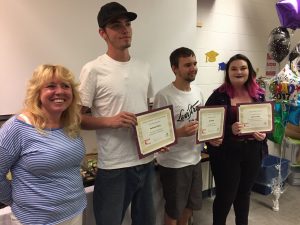 School within a College is a very diverse program that understands that traditional high school may not suit everyone. I feel SWAC is a very progressive learning system because it acknowledges personal struggles and finds a way to work with and around them to get you to where you want to be. It has been a privilege to work alongside my classmates and be able to come together as a family to support each other on such a unique journey.
School boards are actively recruiting SWAC students for the next academic year.  If you know of someone who might benefit, have them contact their high school guidance or student success teacher.