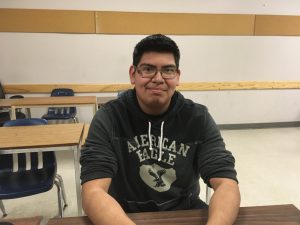 In his own words, Joey Giovannone was "arrogant and immature" at his regular high school. He was behind in credit accumulation, was skipping classes and didn't get along with others at his school.  Today though Joey has accepted a spot in Georgian College's Police Foundations program complete with a spot in residence in Orillia this fall.
What made the difference was the School within a College (SWAC) program, an alternative high school here at Georgian. Each year on the Barrie, Midland, South Georgian Bay and Owen Sound campuses, more than 150 students at-risk of not graduating take their high school credits along with college credits in a flexible program designed to provide a new environment for success. Joey didn't want to come to SWAC at first, and in the end got the last spot available.  He feels now that this was "meant to be".
"I loved the friendly atmosphere in SWAC. Everyone got along" he says. "I liked coming to school to be with a close group of friends.  My teacher was respectful, gave me responsibility to complete my work and the freedom to accomplish my goals. I wasn't thinking of going to college before I came here.  Being in this environment made me feel more comfortable and encouraged about coming to college next year."
Joey also enjoyed his conversations with Sammi Marriner, Georgian's Mental Health and Addictions Youth Transition Worker. Sammi works closely with the three SWAC sections in Barrie to help students find the supports they need to allow them to focus on their futures—everything from signing up for Ontario Works to finding a safe place to live to making appointments with mental health professionals.  Joey didn't plan on continuing his education beyond high school but now he is excited to attend Georgian.
"To be truly honest, all of Joey's accomplishments are completely of his own accord and I could not be more proud of him," says Sammi. "As Joey was going through his SWAC journey, he was able to bounce some ideas off me and came to the decision that he would like to continue his studies in college. After he had completed the program, he contacted me to ask a few questions about OSAP and other things.  It has been an honour getting to know Joey and I am so excited for his future!"
Joey's secondary teacher Susan Bin is also impressed with what he accomplished this year. "He turned out to be a true leader within the classroom, always there to support his friends," she says.  "I can't wait to see what he accomplishes in the future!"