For the first time ever, Georgian College has awarded a scholarship to a student who has taken a dual credit here and gone on to enroll in a full time program. The inaugural winner is Megan Federovich, a graduate of Innisdale Secondary School in Barrie and now in her second semester of the Child and Youth Care (CYC) program on Georgian's Orillia campus.
"I was bouncing when I got the news", she smiles. "I was ecstatic. I applied for several awards and it's so cool that dual credit saved me before and now the dual credit award is saving me again."
Megan thanks dual credit for her secondary diploma. When she was 17, she became depressed over her parent's divorce and a death in the family.  She dropped out before graduating.  Luckily the Simcoe County District School Board's re-engagement program reached out to her, offering the chance to gain credits through the dual credit program, where high school students take college credits at Georgian College.  Megan finished four courses, including one from the CYC program.
"I was able to get my high school diploma only because of the Dual credit program. The program's   layout of once a week mature classes, being treated as an adult and the multiple teaching styles of professors as well as the support from professors and high school teachers in the program aided me to be able to focus and complete the tasks at hand and get my diploma. I honestly believe if it were not for the dual credit program I would still not have graduated high school and be working at a minimum wage job struggling to get by."
Instead, Megan plans to complete her Georgian program, then go on to earn a Bachelor of Psychology, with a goal of running a program for at risk youth one day. The funds from the dual credit award will pay for certifications, a police check and vaccination records that she needs for her placement this fall. The 22-year-old is feeling a lot less financial stress.
"It's so helpful that this program exists to help people in trouble, especially those who have left school," she explains." I hope it always continues".
Read More Student Success Stories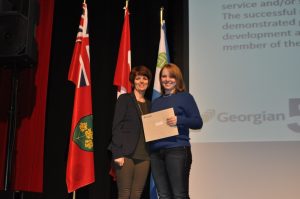 (Megan receives her award from Michelle Rao, Manager, School College Partnerships, at GC award ceremony Jan 18.)