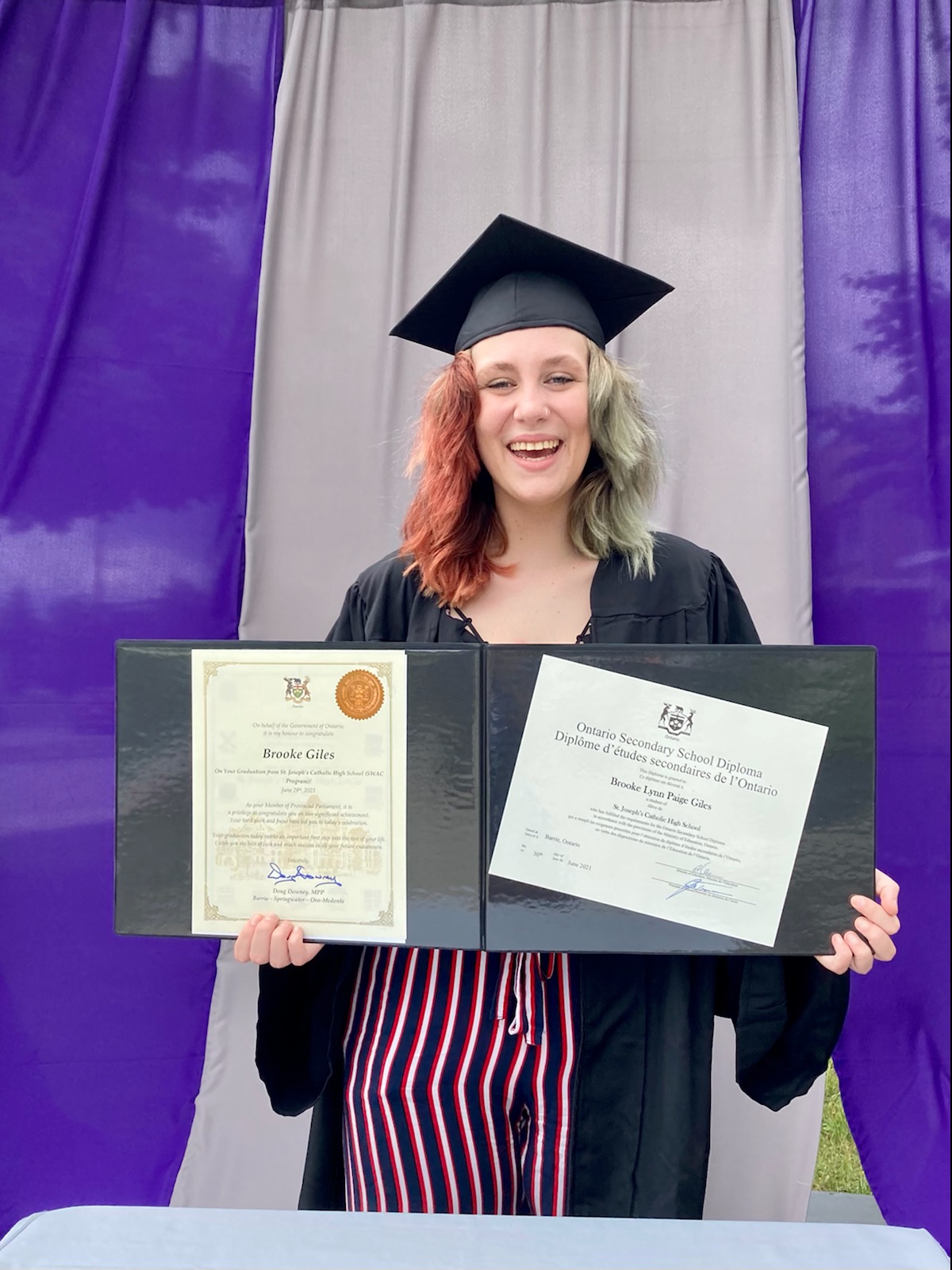 Brooke Giles is making big plans for September. This fall, she will be heading to Ottawa in preparation for a January college start.  This is a huge step for someone who struggled in high school. As she graduates high school this month with an award as Distinguished Graduate, Brooke gives the School within a College and Dual Credit program at Georgian College much of the credit.
"The Dual Credits for sure prepared me for next year. It helped me finish high school and took the stress away for starting college", she says. And while Brooke is excited about her next chapter, she hopes others can benefit from her story. "You can always struggle. But once you work on yourself, it gets easier. You don't have to do it on the same schedule or path as everyone else but have goals. Just make sure you're doing okay. That makes it easier to set and go after those goals."
Brooke says her high school attendance was inconsistent and when she did get to class, she was disengaged and overwhelmed.  Even when diagnosed with ADHD and equipped with an IEP, she was embarrassed to use the supports she was offered and continued to struggle.  In Grade 10, when anxiety and depression made school feel impossible to deal with, she stopped attending altogether.
Brooke returned to school, determined to succeed, and a big part of that journey involved the School within a College program at Georgian's Barrie campus. She took secondary courses through her Simcoe Muskoka Catholic District School Board teacher, Susan Bin, and four college credits through dual credit.
"I got to a point where I want to do more. I pushed myself to work through the smaller stuff," she explains. With strategies and tools in place to handle the little things, she was able to focus on her bigger goals and make steps toward them.
"I took Indigenous Peoples of Canada, Human Behaviour, Lifestyle Management and Culture & Cuisine. My teachers were very helpful," she says. "They would sit and go over the assignments and course content to help… They were accommodating and understanding."
This support, along with the resources from her SWAC Advisor, Sammi Marriner, gave Brooke the confidence to speak up in class, asking questions and sharing ideas in ways she never would have before. She also received some of the highest marks in her classes!
"Brooke came to the SWAC program in the Fall of 2020, having been out of school for some time," explains her secondary teacher, Susan Bin. "She worked hard and persevered throughout the school year. Her dedication to her success took her from a position of being behind in credits, to one of graduating on time with having completed four college Dual Credits! I am sure that the many skills that she has developed this year will help her to approach her college journey with confidence. I am so proud of what she has accomplished this year, despite having faced many challenges. "
Brooke's goal is to use her own experiences, and those of her nieces and nephews to inspire her career path as a Child and Youth Worker. "I want to help younger kids and teens, maybe in mental health, addictions, or maybe housing, but especially in indigenous communities, she says proudly."