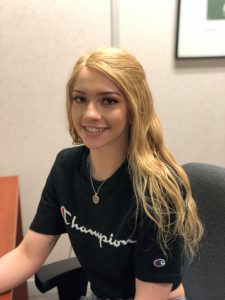 Kyla Cosier is among the high school students who expect to graduate through the School within a College(SWAC) program running at Georgian College in partnership with her school board. She's had medical issues and suffered a significant family loss which led her to be under credited in school. However, the chance to come to the college campus in Barrie for a fresh start has made a big difference.
"At regular high school I didn't' put much effort in getting the credits I needed," Kyla says. "I just skipped class and didn't really get along with others at my school. SWAC has completely changed my way of thinking about school and life in general. I really like how everyone is very friendly and non-judgemental. I've made a lot of new friends here."
Kyla's teacher, Rosa Bitonti, says that Kyla has embraced every opportunity afforded to her, developed confidence and skills and shown determination and motivation in the face of adversity that will ensure a successful career.
The student gives her teacher high praise too. "I was very behind in credits and without the help of Rosa and the SWAC program I don't think I would be graduating on time," she explains.
SWAC graduation ceremonies will be taking place in Barrie, South Georgian Bay and Owen Sound in June—and students like Kyla will be proudly accepting their hard-earned diplomas.