Cyndy Booth is the mother of a two year old daughter who fell behind in high school because of her pregnancy. But connecting with the dual credit program at Georgian College is helping her catch up and providing motivation for her future.
"Before I got pregnant, I wanted to (go to college), but I just didn't have the motivation or the initiative to but after I had my daughter, I had a reason, everything I do is for her," Cyndy says. "When I was in high school I didn't feel that proud of myself because I was already two years behind.  But when I was in the college setting, sitting there made me feel more mature and I actually got listened to, people would hear me speak and not shut me down for my own opinion.  I was corrected instead of criticized."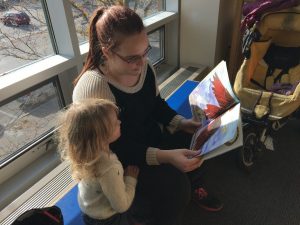 While Cyndy was taking classes at the Simcoe County District School Board alternative school, her teacher suggested she consider a dual credit. She has now studied Introduction to Psychology and Criminology. The latter credit has helped her decide on her next steps.  Cyndy plans to enroll in the Community and Justice Services program at the Orillia campus in 2018.  She gives her college instructor, Noelle Kirk, credit for her decision.
"Because of her…I see myself having the career I want and I actually see myself doing it and have more confidence to get myself to that place," she explains. "I keep telling myself: I can do it! I can do it!"
The dual credit program has two goals—helping secondary students facing challenges accumulate credits towards their high school diplomas and helping them transition to college. In Cyndy's case it is making a big difference.
"Being in the Dual Credit is the only reason that I had faith in myself for my career and my future, it's just because of the Dual Credit. I wouldn't be the way I am, I probably would have dropped out," she says.
Dual credits are funded provincially with students incurring no costs.  Students are recruited through their individual schools.  Georgian College runs dual credit programs at all of its seven campuses.
Read More Student Success Stories