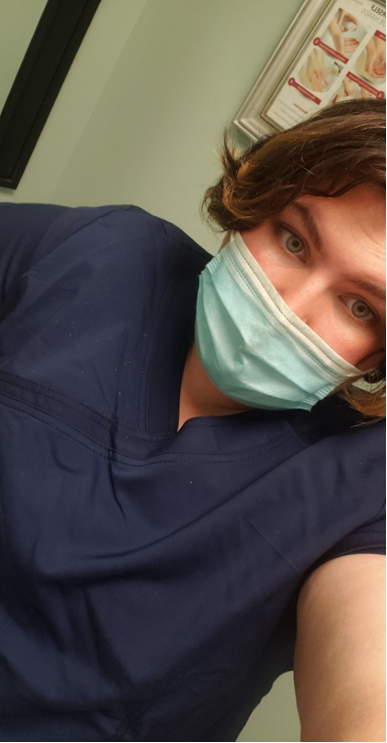 The School within a College or Flex program is well underway on two Georgian College campuses, with secondary students studying both college and high school credits in person.  The program, which started in Owen Sound, continues to make a difference in the lives of young people like Tristen Croft.
Tristen joined Flex in the Fall of 2020 after missing half of grade 11 and all of grade 12 at her home high school.  She says her mental health was dragging her down. Even though returning to school was frightening, it turned out to be an excellent decision.
"When I first joined the Flex program I was scared, scared of the people, the new setting, and rejoining the school environment," Tristen comments. "I quickly realized that it was a calm, welcoming environment. I enjoyed the real-life skill learning and the opportunities given to me. We learned not only about typical subjects but about finance, real world issues, mental health, and personal growth. In a way it was like therapy and school mixed into one. Not to mention the teachers, Betsy Burrow and Susi Schmidt, were absolutely incredible and supportive. They truly have their students' best interests in mind."
The School within a College program is funded by the School College Work Initiative.  Students are given a free application to college as the program's goals are to help students complete high school and transition to post-secondary.  The program has made a huge difference for Tristen.
"Without Flex I would have been able to apply to college or to even graduate high school," she says. "I thought I was trapped and wouldn't be able to get anywhere in my life–being given another chance changed my life. I have moved from Owen Sound to Ottawa, the capital of the country! I have my own apartment, a job at a dentist office, and I'm going to Algonquin College this year!"
School within a College programs will be accepting new students in February.  If you are interested, ask at your high school guidance office.